posted by BH

Well, the title says it all. I'm bored this morning, so I thought I'd rank NFL uniforms from worst to best, in that order. My main limitation or guideline was that I ranked 1st through 4th in each division, then arranged each division rank in order. For example, I ranked all the 1's as 1-8, all the 2's as 9-16, and so on. This means a team might have the second best uniform, but can only rise as high as #9 because it has the second best uni in its division. The other thing is, I can take road, home, or alternate jerseys into account. Also, this is totally subjective. So...

32. Green Bay Packers- Boring. Not only that, they're ugly. I know there's a lot of tradition there, but come on. You could make the stripes on the arm a little smaller, or you could use a little less obnoxious shade of yellow on the pants. Anything. Seriously, rub it with dog crap and it will look better. The worst is the white-top concoction. Hideous.

31. Tennesee Titans- Again, boring. I don't know. I don't really have too much against this jersey, except that it happens to be in the #2 division on the BH Division Jersey Ranking Index (BDJRI) and they've got some powder blue. Tough break. No. What am I saying? It's not a tough break. The thing is ugly as hell.

30. Carolina Panthers- Lots of that yucky powder blue. Some teams can pull off the blue, like Jacksonville and San Diego, but not Carolina. The white pants don't do anyone any favors here either. I'm not against the white pants on principle or anything. They just don't work here. The whole getup makes the players look like pussies, which, I should have mentioned in the beginning, figures into these rankings and will from here on be called the Toughness Quotient (TQ).

29. Miami Dolphins- Another team suffering from the mild blue monster. To make matters worse, they thought the best idea was to augment that blue with orange. Good call. Is there a rule that states teams in a warm-weather climate have to employ jerseys with soft colors to play football?

28. Cincinnati Bengals- Too busy. I get it. You've got stripes. They come miraculously close to making this work, especially in the all black jerseys. The whites are terrible though.

27. Philadelphia Eagles- Sort of in the same boat as Green Bay here. Out-dated, boring, ugly jersey that makes the players look fat and slow, weakening their TQ (-13). Again, the white pants don't help at all.

26. Kansas City- Tough break here. I'd have probably put KC's uni at 16, or at least somewhere higher, but they are in the #1 BDJRI division, the AFC West. The red tops look good, even with the white bottoms. The all-white look severely pussifies this team, a fact not helped by Trent Green, which knocks it to 4th in the division.

25. St. Louis Rams- The early-00's upgrade of this jersey helped it up the list a little. The gold all over the uniform is a huge improvement over the standard yellow they used to use. This jersey could have been higher, but the Rams are last in the #5 BDJRI division.

24. Minnesota Vikings- I would have made them #31, but that violates the rules here. Stupid, ugly, crap-fest. This season, the team took steps to dewimpify their look, to no avail.

23. Washington Redskins- They've got the tradition thing going on, which is nice, but ugly traditon only gets you so far.

22. Arizona- With the red tops, they look presentable. I probably could have switched the Rams and Cards, but whatever. I'm doing this on a a whim on Sunday morning, and recognizing this was a serious undertaking. The uni's not really offensive to my retinas in any way, so there you go.

21. Atlanta Falcons- Jerry Glanville was a jackass, but introducing the black unis was the best decision he ever made for this team. They have a high TQ(+11), which helps a lot.

20. Buffalo Bills- The all-blues look cool, and even with the white pants this uniform doesn't make me want to wretch. The red/blue color scheme works somehow. This is another team that should be higher, but they are in the #3 BDJRI division in football.

19. Oakland Raiders- Silver and black looks stupid. The Raiders are stupid. Pirates were after gold you fucking idiots. What do they find in chests during every pirate movie ever made? I'll give you a hint, it's not silver. Come to think of it, this team should have been #31 (nothing should ever be ranked worse off than Green Bay). Your whole uniform is based on a bad history report or something.

18. Pittsburgh Steelers- There's some tradition to this look, but not enough to put it higher. The black tops with yellow bottoms is a good look, but I'm just not feeling it here. There's a reason teams sort of tweak their look every few years. It's called the Pittsburgh Steelers.

17. Jacksonville Jaguars- Dude, I can't explain why I like this uniform. The black bottoms and the blue top shouldn't work, but it does, probably because the players wearing it look terrifying in it (+17 TQ).

16. New England Patriots- The all-blues look pretty good, and the white tops don't look horrid. Seriously, a team with dark pants can do a lot to overcome a weak top, and the Patriots' white tops aren't that weak.

15. Seattle Seahaks- They've looked way better with the dark blues. They are sort of in the same boat as the Patriots. Dark blue is a scary color when it's running at you in the form of 6-5, 275 pounds.



Scary, huh?



14. Houston Texans
- Again, the blues. The red socks could hit the laundry machine, but there's probably some meaning there I don't get. Like maybe the red is meant to signify the blood spilled at the Alamo, or astronauts who have died, or...maybe they think red looks good with blue. I don't.
13. Detroit Lions
- Somehow, they overcome the curse of tradition and manage to look good. The silver pants help the light blue tops. I don't know how the hell they got silver and blue from a lion, but they did. Shouldn't the uniform be the color of blood and gazelle fur?
12. Dallas Cowboys
- You're from Texas. I get it. Thanks for the huge star. This uni should be #30. What's wrong with me?
The thing they wore on Thanksgiving is way better than the thing they usually wear. In a crazy twist of creation, the dark blue tops actually look worse than the white tops.
11. New Orleans
- The gold pants with the black tops is a good look. Yes, gold in the jersey. I like it. Pay attention to the foreshadowing.
10. Baltimore Ravens
- As I've pointed out, looking tough is important, so my love of the Ravens' uniform might be scewed by Ray Lewis playing for this team. The all-whites are tough to handle, but they still look tough in them.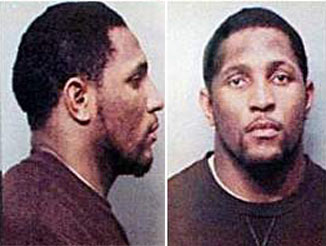 Scary, huh?

(note to Mr. Lewis: if for some crazy reason you ever see this, I'm scared as hell to use your mugshot as a joke. I'm a little pussy schoolteacher in a little hick town in, uh, North Dakota. Yes, that's it. I really mean you no harm, and I think you're a great player. In fact, I tried to get you as my defensive player on my fantasy team, but I ended up wasting my time with Bart Scott. Anyway, it would be really easy for you to beat me up, and you wouldn't feel a sense of accomplishment, so you probably shouldn't.)

(note to Mr. Scott: I don't really think you wasted my time. You had some good games for me. I was just trying to make Mr. Lewis feel better.)

9. San Diego Chargers
- The dark blue is cool. The light blue throwbacks are cool. They've got a lightning bolt on their uniform, as if to say, "Don't fuck with us, we've got a lightning bolt on our uniform." TQ of +13.
8. Denver Broncos
- So now we're in the top 8, which means these are the best of each division. The late-90's redesign totally helped this team's look. They would probably be higher if not for the Nike connection. Even in the all-whites this team looks good.
7. New York Giants
- I just like the gray pants/blue tops look, okay! Shut up! I hate you!
Okay, I'm sorry. I was feeling defensive. This looks like an old-school uniform, which of course, is a look I like. I like the lower-case letters on the helmet too. It's just a nice look.
6. Tampa Bay Buccaneers
- At least these pirates were finding pewter, which is closer to gold than silver. The dark tops with the dark pants is a menacing look, kind of like seeing a pirate ship emerge from the fog with it's cannons pointed at your simple, unarmed, immigrant-carrying ship. This uniform might do the most for any team as far as making players look scary (+23 TQ).
5. New York Jets
- Like the Giants, the Jets went for the extra-mile seeking traditional look. And I like it. The green-heavy jersey with black shoes makes this team look like they should be playing on old, scratchy film.
4. Cleveland Browns
- They're really hanging in there with the brown. I think it looks awesome. Well, with the brown tops that is. The white looks like shit.
3. Chicago Bears
- You've probably noticed I'm a fan of tradition. Some uniforms need little upgrades (see Green Bay and Philadelphia). The Bears look pretty much the same as they did 50 years ago, and they're awesome. This is probably the jersey second most responsible for improving a player's studliness with a TQ of +22.
2. San Francisco 49ers
- "By the seventh day God had finished the work he had been doing; so on the seventh day he rested from all his work, but not before creating the 49ers uniform. And God blessed the seventh day and made it holy, because on it he rested and watched the 49ers play in the beauty he had made (Gen 2:2-3. NIV)"
It's biblical, folks. My hands are tied.
1. Indianapolis Colts
- The most classy, clean, smart look in the NFL. Pretty anti-climactic, huh?